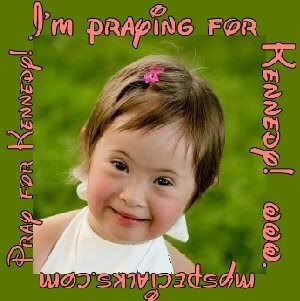 Kennedy was born May 16, 2004 and was diagnosed with Down syndrome shortly after. She was also born with an extra thumb on her right hand which was removed on November 22, 2004. Later, she was diagnosed with failure to thrive due to slow weight gain and after running lots of tests, changing her feeding habits, and even being accused of starving our baby, they discovered that she had a blockage in her intestine. On February 2, 2005, Kennedy had surgery for a duodenal web. Her surgery went really well and she has grown lots since then!
Kennedy also has hydronephrosis (fluid on her kidney) on her right side, and she has reactive airway disease which will most likely turn into asthma eventually. She also has a vascular ring (a blood vessel from her heart wrapped around her esophogas) which may have to be operated on in the future. Kennedy dealt with aspiration issues with thin liquids and had to have her liquids thickened, but she finally outgrew that in August 2007. Kennedy was diagnosed with severe sleep apnea in 2006 and had her tonsils and adenoids removed which mostly resolved that problem. She is also pre-disposed to Celiac's disease so we have to keep an eye out for that.
On April 16, 2007 Kennedy was diagnosed with Acute Myelogenous Leukemia (AML). She started an aggressive treatment of Chemotherapy on April 20, 2007 and completed her last round on September 30, 2007. We are praying she will stay in remission forever!! We go to Vanderbilt Children's Hospital once a month now to get her counts checked.

On February 19, 2008, Kennedy was diagnosed with severe Atlantoaxial Instability and Atlanto-Occipital Instability. The C1 and C2 vertibrae in her neck are very instable (AAI) and there is a huge gap between her skull and C1 (AOI). Any bad fall or injury could cause her to be paralyzed... or worse. It is also showing impingement and swelling on her spine. She will be having surgery in Philadelphia at Shriners in the next couple months and will be in a halo for 6 months afterwards.

* You can visit Her mom, Renee's Blog for updates.