Eian is turning 3 on October 2nd. So I've decided why not have a blog birthday party as well. So starting October 1st til October 31st I'll be hosting birthday giveaways. So hope to see you there.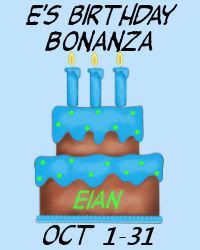 *There might be extra entries for having this button before the 1st WINK WINK*(just leave me a little note)
I'm looking for sponsors for the Birthday Bonanza if you are interested email me at
adjolly@ymail.com
.