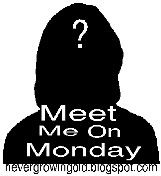 Blogging is a funny thing...we tell our most intimate thoughts for all to read and yet most of the time I find myself sitting and wondering, "who is this person!?" I know them...but yet I don't know them! I want to know who the person is behind all those words so I thought of a great way for all of us to "meet" each other!
Questions:
1. What do your normally eat for breakfast?
2. What kind of car do you drive?
3. Have you ever met a famous person(s)?
4. What is your favorite ice cream flavor?
5. Which TV Channel do you watch the most?
---------------------------------------------------------
My answers:
1. I normally have my favorite chunchy garnola bars (speaking of I'm hungry now)
2. My car is a 2004 white Dodge Stratus. But I cracked the oil pan and while I'm waiting to have it fix I'm driving my SIL's 1999 Ford Windstar Van.
3. I mey Spongebob and Squidward a few years back at Carowinds does that count?
4. Vanilla with chocolate sryup on it. (now you got me wanting icecream for breakfast)
5. Nick Jr.